I enjoy wine as much as the next guy or gal. I think I can distinguish fairly well what I like and what I don't like, even though I don't use the descriptive words that float around conversational space. I admit that my learning curve about wine is really steep; there is just so much to know and understand that could increase my enjoyment.
This past week, I was afforded the chance to work on my learning curve. I was immersed in a very enjoyable blind tasting touted to engage all the senses. The presentation, billed as a Business Meeting, was presented by Clink Different (https.//clinkdifferent.com), a campaign supported by the European Union to bring together two different wine-making regions . The goal of this collective program was, in part, to increase consumption of European wines in the U.S.
At previous wine tastings I've attended (see Sept. 26 post), participants meandered from table to table and were introduced to a variety of wines presented by makers and distributers. At this event, Bordeaux wines and German wines were paired in four flights for us to taste and comment upon. A panel of experts and a skillful moderator guided us through the slow-moving and thoughtful process. We were engaged to evaluate what we were tasting every step of the way. The program closed with a discussion of sustainable wine making in this day and age of ever present climate change.
The two wine-makers on the panel were Jean-Jacques Dubourdieu and Moritz Haidle. Jean-Jacques represented the "Denis Dubourdieu Domaines" located in the Barsac en Sauternes region. His parents, Denis and Florence Dubourdieu, both from old families of "vignerons" of the Bordeaux region founded the winery. They run several estates with Jean-Jacques and his brother Fabrice in the Sauternes, Graves, and Cadillac-Côtes de Bordeaux regions. Denis Dubourdieu has been a driving force behind white Bordeaux wine and is the lead oenologist at University of Bordeaux.
Moritz Haidle was from Weingut Karl Haidle, one of the oldest wine growing estates in the Rems Valley (Remstal) near Stuttgart. This winery was founded in 1949 by his grandfather, retired, world-class Gymnast Karl Haidle and is now into its third generation. Weingut Haidle specialized in Riesling, Lemberger, and Spätburgunder (the last two are Greek to me!). In recent years, the estate's red wines have also garnered attention. Its Lemberger wines in particular, presented as the star of red wine making in Germany, have repeatedly earned Vinum's prestigious German Red Wine Prize.
Other panelists were Mary Gorman-McAdams, an independent consultant and educator to the wine industry. She is currently the Director of the International Wine Center, NYC, and Master Sommelier and restaurateur Laura Williamson.
Flight Number One paired two sparkling wines. We were asked to try to determine which came from France and which from Germany. Of course, everyone there was so much more knowledgeable than I so I took a back seat and listened. I heard words such as dry, sharp, higher acidity, richer mouth feel, tertiary flavors, steely, more like French, less fruity, more citrus, honey notes bantered about. And … Number One was a Cremant de Bordeaux, Number Two was a Sekt. What does this mean to the uninitiated (me)? Crémant is a group of sparkling wines made with the same technique as Champagne, but from outside the Champagne region. Sekt is the German word for sparkling wine. It's also Germany's best-kept secret. Interestingly, in 2017 Germans consumed 400 million bottles of sparkling wine, including Champagne, Cava and Prosecco. In the same year, the country produced 368.8 million bottles of Sekt, most of which stayed in Germany.
Flight Number Two was white wine, in this instance, two white Bordeaux which Laura Williamson described as the "yoga of France, white wine for flexibility." After a lively discussion of the characteristics of these two wines, their identities were revealed. Number Three was Clos Floridene, a Graves, produced by Dubourdieu. Graves is a wine district on the left bank of the Bordeaux region in France, characterized by the gravel soils (graves) after which it is named. This wine is distinct because it's grown in limestone soil. Graves is equally respected for both its red wines as for its whites.
Wine Number Four, the second white wine, was Clos de Lunes, Lune d'Argent. This wine is a blend of 70% Semillon and 30% Sauvignon Blanc. It is aged in a combination of 25% new, French oak barrels and the remaining 75% is aged in stainless steel tanks for between 6 to 7 months.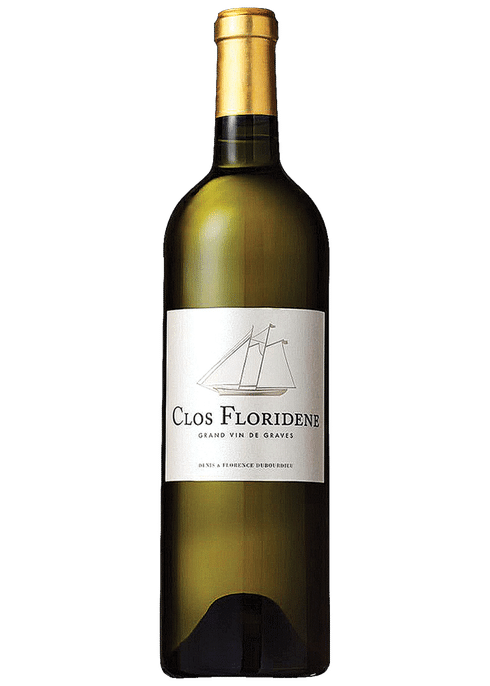 Jean-Jacques shared two insights to Clos Floridene. The name is a contraction of his parents name – Florence and Denis. The ship on the label was the subject of the next anecdote. They always thought it was a French ship, but no … it's American. A customer told them that it's an image of the American ship which won the Isle of Wight regatta in the 1850s and brought home the "America's Cup." Perhaps this information will show up on Jeopardy some day!
The panelists recommended that these two wines are even better a day or two after opening. This is great news for me. We tend to open a bottle of wine every once and a while at dinner and drink no more than 4 glasses at the meal. The remainder usually finds its way into the cooking pot. I'll try these and enjoy them the next day!
Flight Number Three presented two Rosé wines. At the close of the discussion it was mentioned thatSavvy tourists in Bordeaux drink rosé! Wine Number Five was a A. J. Adam Rosé Spätburgunder, a monovarietal Pinot Noir rosé wine produced by Weingut A. J. Adam; it is rated as a VDP Mosel-Saar-Ruwer. Weingut A. J. Adam is a young winery founded in 2000, located in the Moselle. The winery has approximately 3.5 hectares of Riesling vineyards on slopes with slate soils at an altitude of some 130 metres aged from 30 to 65 years old, planted on steep slopes on the sides of the river.
Wine Number Six was a French Château Thieuley from the family-owned vineyard, "Vignobles Courselle, which was founded in 1950 by André Courselle. The winery passed to his son Francis in 1972 and is now owned and run by Francis' two daughters.
Flight Number Four presented two German red wines – Wittmann Spätburgunder, Rheinhessen and Karl Kaidle Häder Lemberger Erste Lage. The Spätburgunder is described as a classic Pinot Noir. It is hand harvested from estate-owned vineyards in the village of Westhofen. The Häder vineyard is a classified Erste Lage, or first class site, located adjacent to the Mönchberg, Haidle's top site for Lemberger.
The program closed with a fascinating discussion about adjustments the vineyards are making in the face of climate change. Among the many areas of the field (literally) that are affected is canopy management, the care and management of leafs on the vine. Photosynthesis (remember high school biology class) is a process that affects the leaves, of course, but also the sugar development in the grapes. Another relationship between leaf and grape is trellis height and sunburn! The warmth of the soil is another element in the delicate ratio in place. Who would have known?
As you, no doubt, have read, this tasting was an intense learning experience for me. What I also learned was how much more there is for me to understand about wine.
The event was hosted by Byblos, a popular "Middleterranean" restaurant in our community. We were fêted with a tasty array of appetizers including olives, spiced Marcona almonds, mini kibbehs, Caesar salad with bits of falafel, hummus and labneh. Paired, of course, with a variety of Bordeaux and German wines.
In keeping with the goal of the Clink Different program, I think Constant Companion and I will be trying more of these Bordeaux and German wines. Using my grading scale, they were all "yummy" in their own ways!
Cheers ~